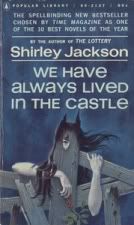 The title of the novel is no accident, for it is as gothic a tale as any that was ever set in a crumbling castle on the banks of the Rhine. Its treatment of human evil, isolation and madness could easily qualify it as the pinnacle of 20th Century American Gothic.
A shadow has fallen across the house of Blackwood. Though once a prominent family, a possibly accidental poisoning has reduced their numbers to three (two sisters, an uncle) and made the townspeople suspicious of the survivors. The uncle, Julian, has been left physically crippled and one of the sisters, Constance, has developed a phobia about the world outside the house which does not prevent her from accepting visitors. It is left to the younger sister, Merikat (short for Mary Katherine), to venture into town on necessary errands.
Gothic literature often features singular characters, individuals who seem eerily plausible yet who are warped in a way that makes them unlike anyone else we've ever encountered. Merikat, who is the narrator and thus our guide through this story, is just such a character. It is clear that she views the townspeople with hostility, going so far as to craft charms--ordinary household items such as books or mirrors placed in odd locations or strange configurations--to keep the world at bay.
But soon it does intrude, in the figure of Charles, a cousin from an estranged branch of the family. His healthiness and level headedness seem to promise an opening up of the Blackwood home, a return to normality. But Merikat sees in him a representative of the crudity and selfishness of the outside world and seeks to drive him out through more and more powerful charms. The last of these results in a terrible reaction from the townspeople which sends the Blackwoods into greater isolation, leading to a hauntingly melancholy end to the story.
We Have Always Lived in the Castle is an incomparable achievement, a story that will equally charm and disturb in ways that sometimes can be almost intolerable. And you will probably never forget Merikat Blackwood.